Custom Built Trailers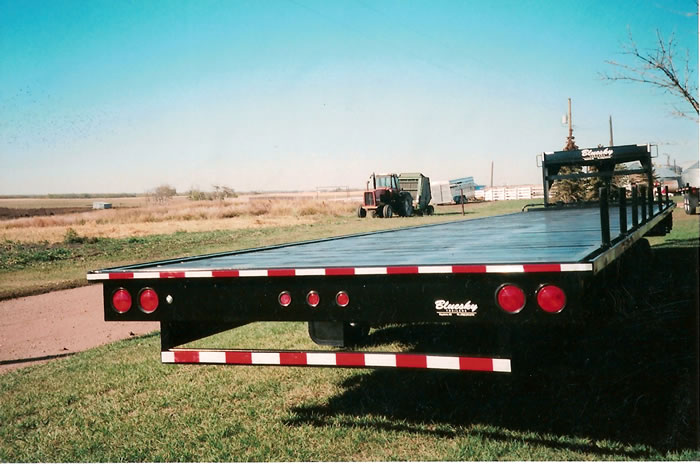 99% of our trailers are CUSTOM BUILT - meaning the customer gets what he wants. Bluesky Trailer Manufacturing Inc operates on the family farm outside the city of Camrose, Alberta, Canada. We have been in the business of trailers and flat deck trailers since 1986.
The company is known for its Top Quality built trailers and for its one on one service with clients ensuring that their custom built trailer is what they want and need.
Need Your Trailer to Look Like New?
We refurbish. Trailers are sandblasted, then repair work is done if need be. We paint using an epoxy undercoat and an acrylic urethane topcoat. We can also rock guard - using a product called Epoxy Box Liner. Read more & see our case studies.
Latest Updates
April 22nd, 2021
SOLD OUT OF CREEP FEEDERS AND DUE TO COVID, NOT ABLE TO GET SUPPLIES TO MANUFACTURE ANY
December 15th, 2020
http://Creep feedersWe are currently out of Creep Feeders, and do not seeus building more at this time
June 19th, 2014
Our website has been upgraded. We are currently working on adding new photos. Thank-you for your patience.

July 4, 2009
Bluesky Trailer Manufacturing is now capable of building Dump Trailers. Visit our new Dump Trailers section to view some of our recent work.
Feb 18th, 2009
Visit our refurbish section for a number of recent refurbishing jobs. At Bluesky, we can make your old trailer look like new - and built to last.

Our repairs section has also been updated showing some major repair jobs.
Contact Us to Get Started Today
Phone Bluesky Trailer Manufacturing at (780) 374-2174 or view our contact page for more details.
"I cannot believe the quality!"
---A & Steel, Edmonton